Planning Your Day
Planning a wedding can be quite daunting, especially if this is the first time that you are organising a large event.
This is where we would like to help.
Our experienced Wedding Planners will be with you every step of the way. Whether you would like to have your ceremony, or your reception dinner with us (or both of course!), they will be able to offer you their recommendations, while fully taking into account all of your own requests and requirements. Our goal is to make sure that your day is as unique to you as possible.
If you have any questions regarding our packages and menus, please contact our Wedding Planners.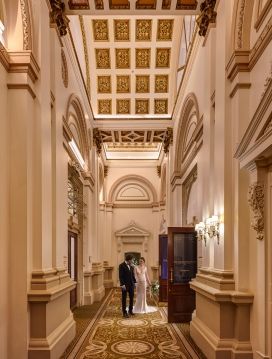 Our Wedding Packages
We know that you will want to make your day as special as possible. To achieve this, you need to make your day unique and personal to you and your partner.
With this in mind, we have created a set of three packages, the Nassau Package, the Suffolk Package and the Trinity Package, each designed to give you something to work from when dreaming up your perfect day. After all, it is easier to be creative when you do not have anything to worry about.
Our Wedding Packages start from €115.00 per person. For further details please contact our Wedding Executives by phoning +353 1 645 1440 or email wedding@thewestindublin.com.